One of the Department of Homeland Security's more complex components, US Customs and Border Protection has a mission to keep terrorists and terrorist weapons out of the United States. CBP Officers are tasked with enforcing hundreds of U.S. regulations including drug and immigration laws and for facilitating trade and travel at the same time.
CBP Officers screen all visitors and cargo that enter the U.S. at over 300 land, air and sea ports. By land, sea and air, Officers prevent narcotics, agricultural pests and smuggled goods from entering the U.S.
CBP Officer Requirements
To apply for a position as a Customs and Border Patrol Officer, you must be a U.S. citizen and must be under 40 years of age at time of appointment. The age limit does not apply to those claiming veteran's preference in the hiring process.
Applicants must pass a medical examination, fitness assessment, drug test and a thorough background investigation. Your fitness level must allow physical duties in harsh environments on some occasions.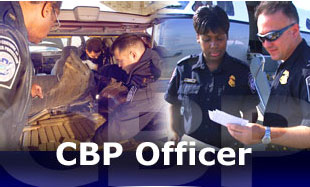 CBP Officers deal extensively with the public which makes people skills an important hiring consideration. Applicants should be patient, cool tempered and exercise thoughtful judgment.
Spanish is a requirement. Applicants fluent in Spanish must pass a language test while those who require training in the language will be tested for their ability to learn languages.
US Customs and Border Protection Education and Training
The CBP has one of the most rigorous training programs in the country at the Federal Law Enforcement Training Center (FLETC) near Brunswick, GA. For 18 weeks trainees receive instruction in federal law enforcement and border patrol operations. Courses include Immigration and Nationality Law, Detection of Contraband, Defensive Tactics, Criminal Law and Statutory Authority, Spanish, Border Patrol Operations, Care and Use of Firearms, and Anti-Terrorism.
In addition, there are Federal Law Enforcement Center (FLETC) courses in communications, ethics and conduct, report writing, fingerprinting, Constitutional law and computer technology.
However, prior to the FLETC training, CBP Officers will be required to attend approximately one month of pre-academy training at their respective duty station.
Training continues during the one year trial period after a new hire is assigned to a duty station. Examinations are given after completion of 6-1/2 to 10 months of service. Failure to attain a passing grade of 70% is grounds for separation. Throughout the trial year, trainees are rated by Supervisory Agents on their suitability for Federal employment.
Trainees who are not proficient in Spanish will complete an additional 6 weeks of Spanish language and cultural training following completion of the basic training period. To continue as a Customs & Border Protection Officer, new officers are required to pass a series of Spanish tests after joining their duty station (where required).
CBP Officer Salary
Depending on qualifications, including prior education, entry level is at Grade GL-5, GL-7 or GL-9 with promotion possible after completion of the 6 ½ month probationary examination. Base starting salaries range based on the following grade levels: GL-5 ($38,619), GL-7 ($43,964), and GL-9 ($49,029) with the opportunity for a significant amount of overtime pay.
You are eligible for the Federal Government benefits package and also receive a uniform allowance of $1500 annually.
Customs and Border Career Opportunities
Almost 52,000 CBP employees guard 7,000 miles of land border the U.S. shared with Mexico and Canada and 2,000 miles of Florida coastal waters. In addition, the CBP partners with the U.S. Coast Guard to protect 95,000 miles of maritime border.
CBP Officers protect America's borders at official ports of entry. They pre-screen shipping containers at major seaports to facilitate legitimate trade while stopping high risk shipments.
Officers monitor boarding the U.S. bound flights originating from major foreign airports to prevent criminal aliens from arriving in the U.S. and offer training on U.S. entry requirements.
As a CBP Officer you will also be protecting U.S. businesses from theft of intellectual property and unfair trade practices, collecting import duties and protecting U.S. agricultural resources with inspections at ports of entry.
Take a look at other great Criminal Justice Careers.